Chocolate Chip Pumpkin Pancakes with Pumpkin Spice and Pumpkin Puree. Served with crispy, caramelized pecans. These fluffy and vegan pumpkin pancakes are a true pancake dream on a cold autumn morning. The pancakes tastes delicious, are full of cinnamon and autumn flavors and moist!  The best part: the recipe is really easy!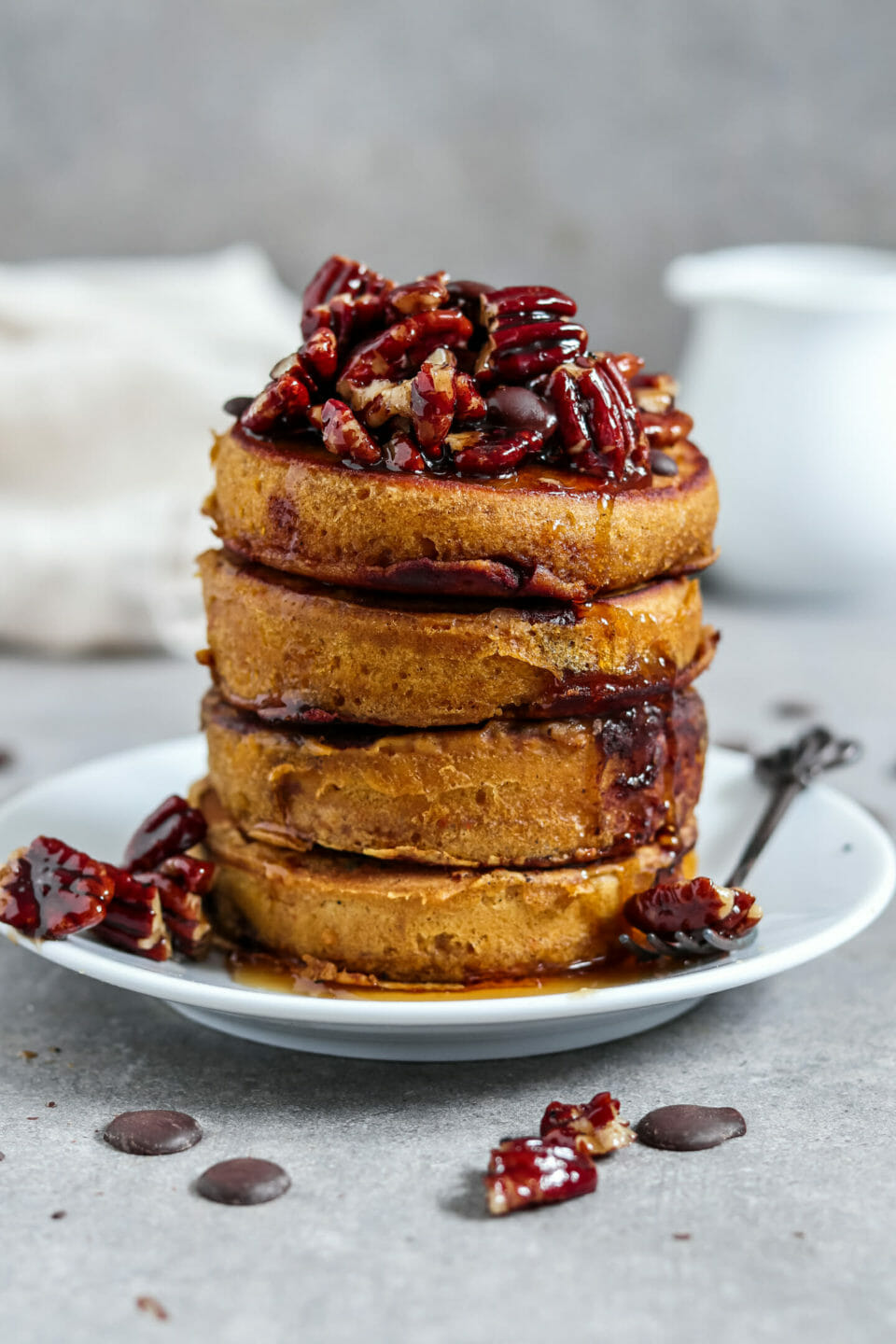 I love autumn. Especially since autumn time always means pumpkin time! So it actually happens that no day goes by without pumpkin. The preparation possibilities are endless. After initially groping my way to hearty recipes, I also like to use pumpkin for sweet recipes. The included pumpkin puree gives the pancakes not only a delicious autumnal aroma, but they are also so juicy! In combination with a pumpkin spice it tastes and smells wonderfully! That's how the dark and cold days can be withstood – even for a summer child like me.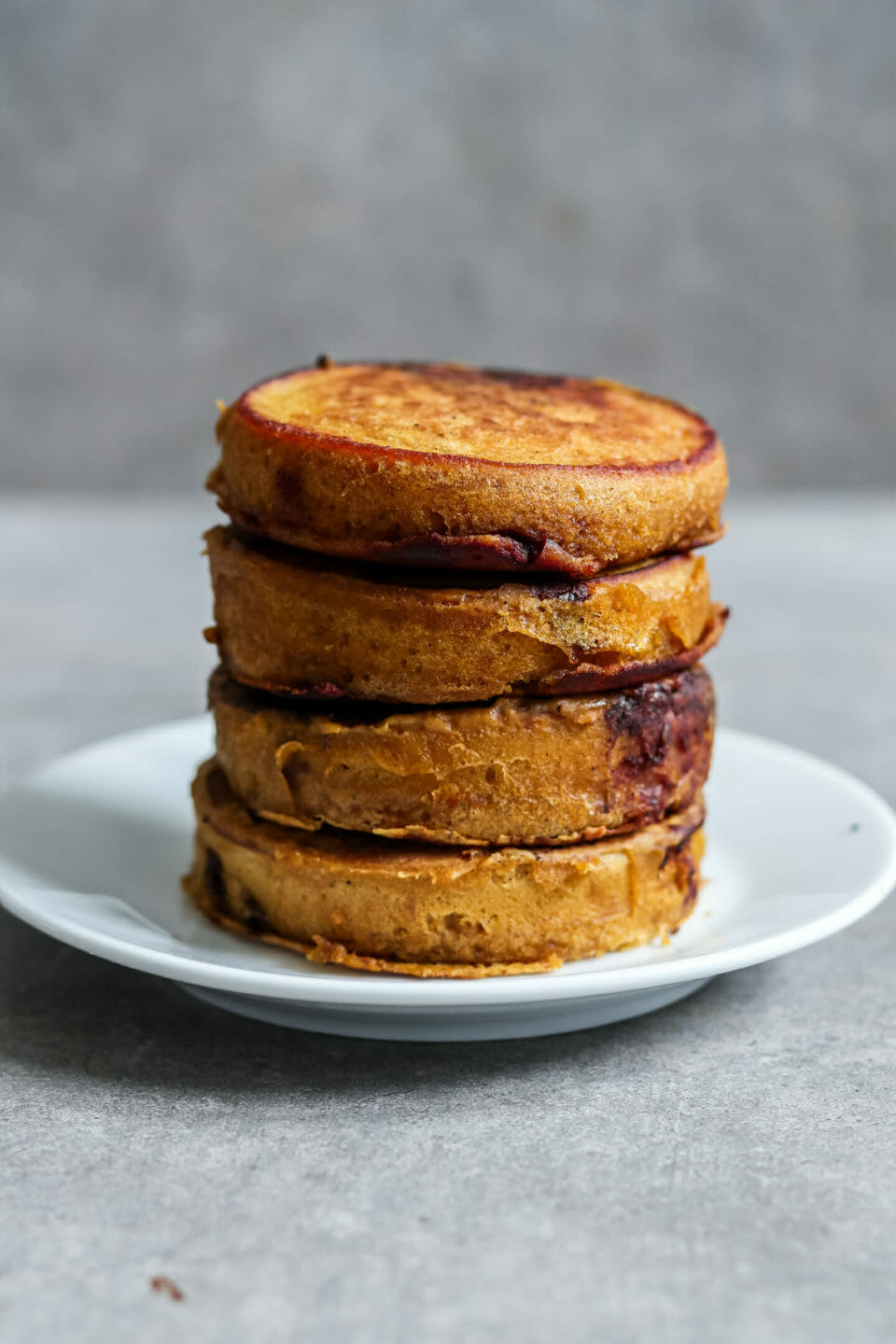 Vegan Chocolate Chip Pumpkin Pancakes with pumpkin spice, pumpkin puree and caramelized pecans
These delicious and easy-to-prepare pancakes are made of pumpkin puree. I like to prepare several portions of pumpkin puree. You can either store them in the refrigerator if they are consumed within the next few days, or freeze them in portions. I also refined the dough with pumpkin spice and sugar-free chocolate drops.
In autumn and winter I love to caramelize fruits and nuts in the pan. For the pumpkin pancakes, I chose caramelized pecans that are a great crunchy addition to the fluffy soft pancakes.
You can refine and customize your pancakes to your taste! What about caramelized apples or nut butter? Do you have any more suggestions? Then please write me in the comments!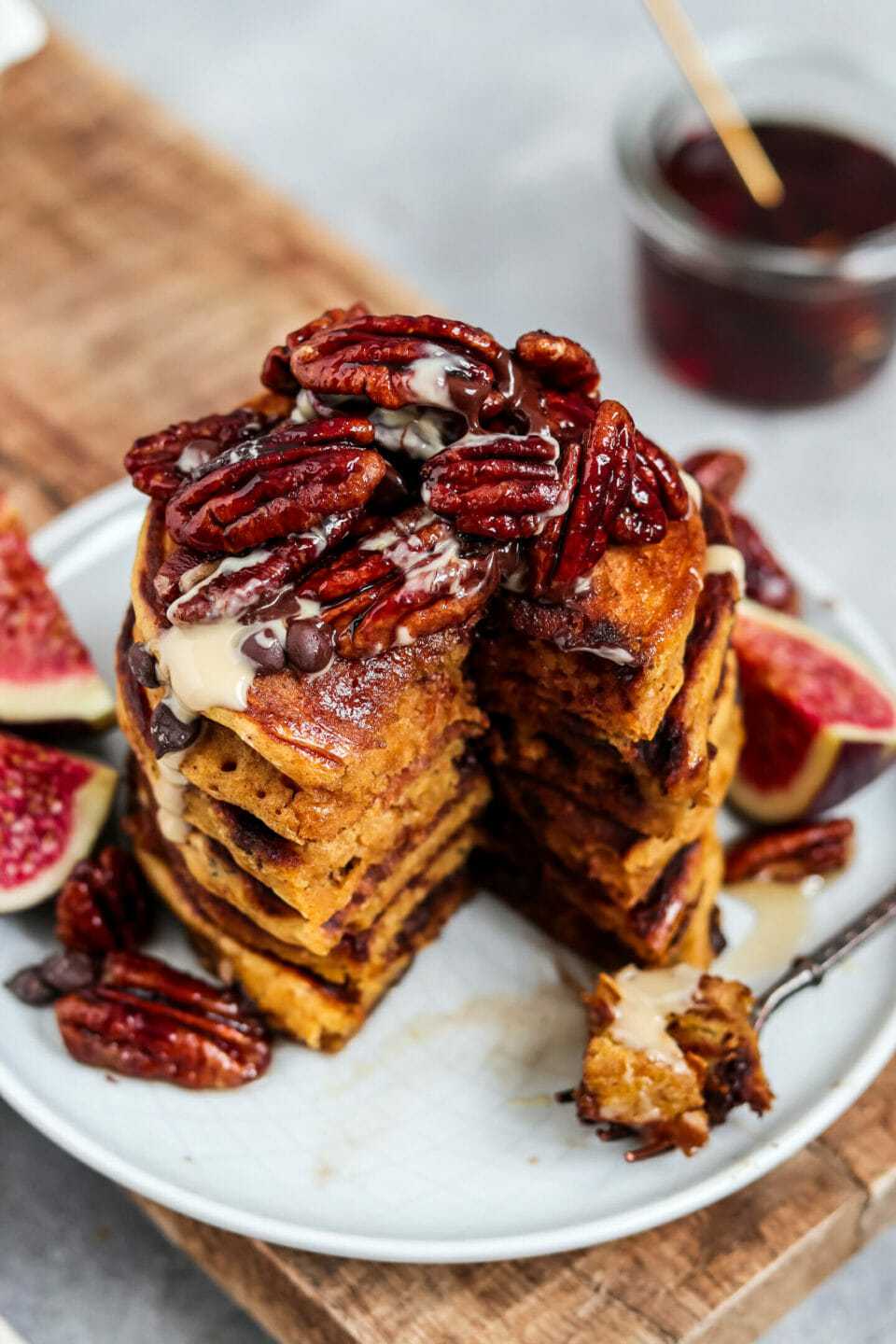 The best tip for super fluffy and thick pancakes
My pancakes are basically always fluffy. But these pumpkin pancakes are super fluffy. The trick is quite simple: round silicone molds for the pan! Such silicone molds are actually intended to prepare a particularly round fried egg. Actually. Because the shapes are also ideal for preparing a pancake dough in it. To do this, place the dough in the mold, put a lid on the pan and wait a few minutes. Then carefully remove the mold (usually the molds have a handle), turn pancake and fry for a few more minutes. A simple trick with a great effect!
Looking for more sweet pumpkin recipes? Try one of these…
If you make these pancakes, be sure to leave a comment and / or give this recipe a rating! I love to hear from you guys and how my recipes tasted to you! If you do make this recipe, share your creation on Instagram as a photo and use the hashtag #byanjushka. Always so happy to look through your photos of recipes!
Vegan chocolate chip pumpkin pancakes with caramelized pecans
The most fluffiest vegan pumpkin pancakes with pumpkin spice, pumpkin puree, chocolate chips and caramelized pecans. A true pancake dream on a cold autumn morning.
Print
Pin
Ingredients
Chocolate chip pumpkin pancakes
200

g

flour

2

tsp

baking powder

2

tsp

pumpkin spice*

120

g

pumpkin puree*

100

ml

vegan milk

100

ml

sparkling water

1

tsp

vanilla extract

40

ml

maple syrup

1

tbsp

apple cider vinegar

50

g

chocolate drops

oil

for the pan
Caramelized pecans
pecans

or other nuts

Dash of water

2

tbsp

sugar*
Instructions
Chocolate chip pumpkin pancakes
Mix the flour, baking powder and pumpkin spice in a bowl. Add the remaining ingredients and mix into a dough. Fold in chocolate drops to taste. Let the pancake batter rest for 10 minutes.

Heat oil in a pan. As soon as the pan is hot, turn the heat to medium and add 1-2 tablespoons of pancake batter to the pan. Fry for about 3-4 minutes until bubbles form on the surface. Then turn carefully and fry for another 2-3 minutes.

Then remove from the pan and continue until the batter is used up.
Caramelized pecans
Heat the water and sugar in a pan until it simmered gently. Add the nuts and let them caramelize for about 7-10 minutes. Stir occasionally to prevent the nuts from burning.

Serve pancakes with caramelized pecans. Add nut butter, maple syrup or fruit to taste.
Notes
you can either use a pumpkin spice blend or make your own pumpkin spice mix: 1/2tsp cinnamon, 1/2tsp ginger, 1/2tsp nutmeg and 1/2tsp cloves.
To make pumpkin puree you have two options:

In the pot: Cut a hokkaido pumpkin into small pieces, place in a saucepan and cover with water. Bring the water to boil and simmer until the pumpkin is soft. Then drain off the water and mix in a blender.
In the oven: Preheat oven to 200 degrees. Cut the hokkaido pumpkin into small pieces, spread on a baking sheet lined with baking paper and bake in the oven for about 20 to 30 minutes until the pumpkin is soft. Then mix in a blender.

Instead of sugar you can also use erythritol, brown sugar or a syrup like maple syrup. 
You might also like