Vegan reindeer cookies filled with chocolate hazelnut cream. Homemade chocolate hazelnut cream made of roasted hazelnuts between simple "butter" cookies and decorated as s sweet reindeer with red cranberry nose. These cookies not only look incredibly sweet, they also taste so delicious! And best part of all: they are easy to make!
My vegan Christmas bakery is now open!
A little earlier than usual, but let's face it: the pre-Christmas season is actually the best part of Christmas, right?
Are you ready for my vegan Christmas baking?
I've already planned some cookies and pastry recipes for you (If someone wants to help out with baking, feel free to contact me haha!). But you can always write me in the comments, if you have recipe requests to me!
I want to show you how easy and delicious vegan Christmas can be. Without fancy replacement products, no long ingredient lists or complicated recipe instructions. It can be still classic – just vegan. With products from the supermarket around the corner.
Vegan reindeer cookies
Let's start with these simple vegan reindeer cookies that are not only super cute, but also simple and tasty. The reindeer cookies are made of two cookies and a creamy chocolate hazelnut filling.
The cookies
These are simple "cut out" cookies. Similar to butter cookies, only without butter and eggs. The cookies are super easy to make: mix flour, sugar, vanilla sugar, pinch of salt, some orange peel and vegan butter, let it chill, roll out, cut out and bake.
By the way, orange peel is my insider tip. Almost in all my Christmas cookies I add 1/2 – 1 teaspoon orange peel. This gives the cookies a fresh and wintery aroma.
If the dough is too sticky, just add a little more flour and / or use a spatula to place the cookies on the baking sheet.
The chocolate hazelnut filling
Instead of using a finished chocolate hazelnut cream, I decided to make my own spread. Not only is it quick and easy to make, it also tastes even better and is also a healthy alternative.
The chocolate hazelnut cream is best prepared while the dough is resting in the fridge. To do this, first roast the hazelnuts in the oven, remove them and process them into a liquid hazelnut butter in a blender. This can take a few minutes and needs a good blender.
Melt chocolate with some coconut oil in a water bath and add to the hazelnut butter with some maple syrup, vegan milk, vanilla extract and a pinch of salt and blend to a creamy chocolate hazelnut spread …. yummy !!
The decorating
Once the cookies have cooled, the fun part can start: the decorating.
Spread the half of the cookies with the chocolate hazelnut cream and carefully put a cookie on it as a "lid". With the help of a decorating pin you can now decorate the cookies to reindeer. With liquid chocolate, cranberries can be "stuck" on the cookies as red noses.
These cookies are vegan, easily made and festive. It's so much fun to do it – not just as a kid, but also an an adult haha.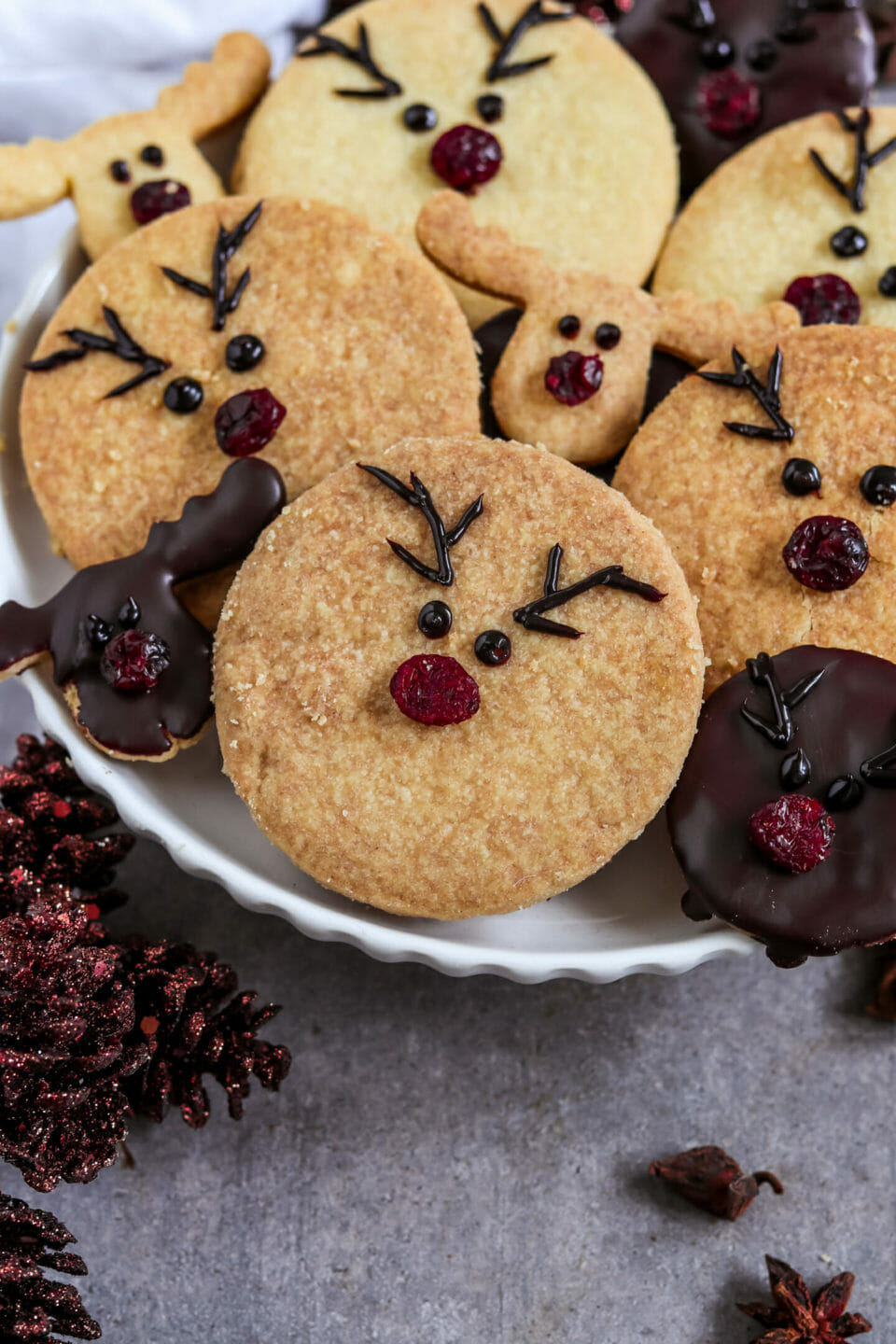 If you make these vegan reindeer cookies, be sure to leave a comment and / or give this recipe a rating! I love to hear from you guys and how my recipes tasted to you! If you do make this recipe, share your creation on Instagram as a photo and use the hashtag #byanjushka. Always so happy to look through your photos of recipes!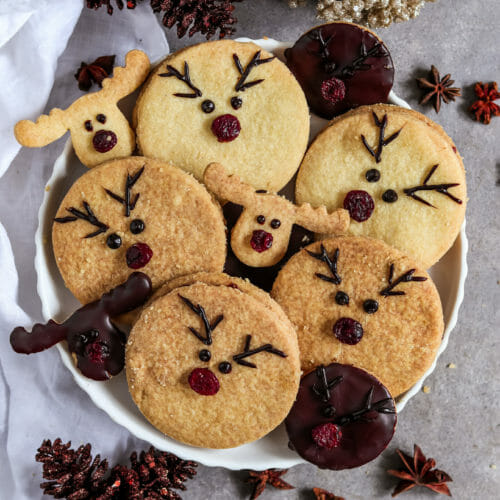 Vegan Reindeer Christmas Cookies with Chocolate Hazelnut Cream Filling
Sweet and creamy chocolate hazelnut cream between two simple cookies and decorated as sweet reindeer with cranberry noses.
Print
Pin
Ingredients
Cookies
250

g

wheat flour

40

g

sugar

2

packets of

anilla sugar

1

pinch of

salt

125

g

cold vegan butter

cut into small pieces
Chocolate Hazelnut Cream
400

g

whole hazelnuts

100

g

chocolate

dark

2

tbsp

coconut oil

4

tbsp

maple syrup

or agave syrup

125

ml

of vegan milk

e.g. Hazelnut or almond milk

1

tsp

vanilla extract

1

pinch of

salt
Decoration
Chocolate cream

Cranberries
Instructions
Cookies
Put all the ingredients in a bowl, knead quickly into a dough and place in the refrigerator for at least 1 hour.

Preheat the oven to 180 degrees.

Roll out the dough on a baking mat or floured work surface about 5mm thick and cut out about 20 round cookies.

Place on a baking tray lined with baking paper * and bake in the oven for approx. 12-15 minutes in a top-bottom heat until golden. Then allow to cool completely.

Spread half of the cookies with a chocolate hazelnut cream and carefully place one cookie as a lid.

Then decorate the cookies with a decorating pen.

The red cranberry noses stick to the cookies with some liquid chocolate as red reindeer noses.
Chocolate Hazelnut Cream
Preheat oven to 180 degrees.

Spread the hazelnuts on a baking tray lined with baking paper and bake in the oven for about 15 minutes.

Then remove the skin and put the hazelnuts in a blender.

Mix until smooth.

Melt the chocolate in small pieces together with the coconut oil in a water bath.

Add the melted chocolate along with the remaining ingredients to the hazelnut butter in the blender and mix to a chocolate hazelnut cream.

Then store in a glass.
Notes
If the dough sticks too much, just add some flour. The cookies are best placed on the baking sheet with a spatula.
You might also like